Dated 12/14/11
The declaration of the revival of Ukrainian society was proclaimed by the non-political initiative "The First of December" . The text of the declaration was published today in Kyiv by well-known Ukrainian public figures. Thus, they are trying to awaken the Ukrainian intelligentsia and get closer to the European standard of living. At the same time, special emphasis is placed on the younger generation of Ukrainians.

The First of December initiative group was created on the 20th anniversary of the independence referendum. The creation of such an association is an initiative of three churches (the Ukrainian Orthodox Church, the Ukrainian Orthodox Church of the Kyiv Patriarchate and the Ukrainian Greek Catholic Church). It was joined by well-known Ukrainian intellectuals and public figures: Viacheslav Briukhovetskyi, Bogdan Gavrylyshyn, Volodymyr Gorbulin, Semen Gluzman, Ivan Dziuba, Myroslav Marynovich, Myroslav Popovych, Yevhen Sverstiuk, Vadym Skuratovskyi, Ihor Yukhnovskyi.

They all have known each other for a long time, but today they feel that the Ukrainian intelligentsia needs their help, said Semen Gluzman, a human rights activist, former dissident and political prisoner.

We are middle-aged naive citizens of Ukraine
Semen Gluzman

"We will not print leaflets. We will not call for the overthrow of the regime, because we have a regime that is elected by the law-abiding citizens of Ukraine. We will talk and not only in Kyiv. We will call for constructive work, not destructive work, says Semen Gluzman. – I understand that everything I say is quite naive. Yes, naive. But we are naive, we are elderly naive citizens of Ukraine."

But they will still try to improve politics

The newly created initiative group is not a political organization, but with its help they will try to improve Ukrainian politics, Cardinal of the Ukrainian Greek Catholic Church Lubomyr Huzar said.

"We must be aware that what we want, this initiative, to which the rectors of the churches called us, is a long process that will need to be worked on for a long time and consistently. Let no one imagine that this is one or two - and everything will be ready. No! And here, you see, is a very important point, we must work on everything," His Beatitude Lubomyr Huzar emphasized.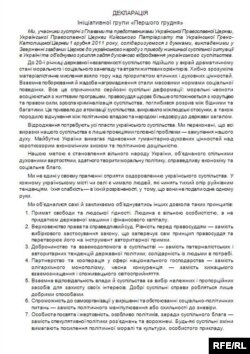 Representatives of the Ukrainian intelligentsia urge to comply with the norms of the law, to be fair and honest. The Declaration of the Revival of Ukrainian Society speaks of the rule of law, a fair trial, equality before justice, the elimination of corruption, but first of all, its authors focus on the freedoms and dignity of everyone. Today this is not the case, and you need to start with yourself and your loved ones, notes the well-known Ukrainian economist Bogdan Gavrylyshyn.

"Not only Ukraine needs such a spiritual, moral revival. The same Europe really needs this, because these are also countries where consumption and earning money are almost the only value. And it disfigures people. So this is not only a Ukrainian phenomenon, a Ukrainian situation. Because the economic system is very inhumane, in which a person has no values. And we just need a person to be the highest value," said Bohdan Gavrylyshyn.

Members of the First of December initiative group laid the Fundfor the National Round Table. All Ukrainians were called to unite, regardless of religion, political beliefs or nationality. The first meeting is scheduled for March.

Release cover: The First of December Initiative Group