Talking about peace, peacemaking, reconciliation with the enemy is not the most popular topic in Ukraine now. At a time when the Russian army is squeezing Ukraine from all sides, there is more talk about the war and how we can protect ourselves from a possible invasion.
And yet, Reverend Heorhii KOVALENKO, now a priest of the OCU, rector of the Open Orthodox University of Hagia Sophia-Wisdom, co-organizer of the peacemaking project "Understanding. Religious communities and overcoming the polarization of Ukrainian society", and in the past - the former head of the Synodal Information and Education Department of the UOC-MP and speaker of the Primate of the UOC, Metropolitan Volodymyr (Sabodan), believes that it is necessary to talk about peace, because the war will someday end and there must be those who will build it. And yet, according to him, one must not be afraid and not forget to live.
"An anticipation of war or other upheavals prompts us to think about the meaning of life"
- You are a priest who has long gone beyond associations with one church or one rank. In troubled, dark times, the need for God increases - tell me, please, is this true based on your observations? Is it true that people usually convert, seek God, become closer to Him only in difficult circumstances?
— Sociology claims that Ukrainian society is stably religious. However, in order to truly turn to faith, it takes more than just trying to find a way out of a situation where not everything is in control. Such difficult times are just the period when a person can hear the gospel. However, in order for it to become the basis of life, there has been a change in the mind, you also need to work on yourself.
I recently visited the "Intellectual Salon of Koshkina and Troitsky", dedicated to the topic "How to leave panic and not die of fear." And there, psychologist Oleg Pokalchuk, in fact, said that believers have a source from which they draw strength, especially in difficult times. But by the time they come, you already need to have it. If we are talking about Christianity, this means that, for example, I am a Christian not only in church on Sunday, but also at home, at work, during the war ... When life tests my faith, then my faith is alive.
"Reverend, will we all be tested by life?"
- Every. And it doesn't have to be about war. The other day I wrote a post: "You will hear about wars and military rumors, look, don't be scared ... But no one knows about the day and hour ..." These are not quotes from today's news. These are the words of Christ. If we were so mobilized by the Gospel as by news reports, perhaps our society would be of a different quality and our cohesion too. And it would be more capable of resisting the challenges of evil with the inner strength of good. At one time, Archangel Michael, with a single word, cast down from Heaven the burnt Lucifer with other vile spirits. The call of the gospel: "Be not overcome by evil, but overcome evil with good" (Romans 12:21) is the task for us. In difficult times, there is an opportunity to try an alternative action that is not driven by hatred, fear, violence, but still by this inner world that is not surrender. A peacemaker is not one who capitulates. A peacemaker is one who is ready for what is happening and can protect. And this is important to understand, because sometimes such concepts as peacemaking or others related to the development of the world are called into question.
Bible Instructions: "Don't Be Afraid!" and "Get ready!".
"Some Christians are frightened, they say, we are going through the last times…
Almost every generation of Christians thinks they are living in the last days. And in almost every generation of Christians there are those who see the signs and symbols of this. The Gospel says: "But no one knows about the day and hour: neither the Angels of Heaven, nor the Son, only the Father Himself" (Mat. 24:36). This date and time lookup is a trap. The premonition of war or other upheavals, the war in the east of Ukraine, for eight years now, have prompted us to think about the meaning of life, which does not last as long as historical processes. Modern people are trying to disown the theme of death, the finiteness of earthly existence. In fact, in such difficult times, it becomes obvious what we Christians believe in. And we should show even less of the same fear. After all, the Bible says: "Do not be afraid!".



- It seems like 365 times - for every day of the year!
- On the one hand: "Do not be afraid!". And on the other: "Get ready!". Get ready not only for possible aggression from the enemy, but also for a meeting with God - each in his own time. There is another horizon to be seen - it is as real as the threat of a full-scale invasion.
"TIME TO TALK ABOUT THE WORLD"
— One Protestant pastor said that in the front-line villages in eastern Ukraine, often the love of God and, in fact, acceptance of Him, repentance, world building, which we will talk about further, is perceived through providing basic needs: help with food, water, firewood and coal... What is your opinion about this?
— The Lord said: "For I was hungry, and you gave me food; I was thirsty and you gave me drink; I was a foreigner, and you accepted me; naked, and you dressed me .... " (Mat. 25:35-36).
In fact, in such moments there is a meeting with God: people who do good deeds are the hands of God. It is no coincidence that we call the Church the Body of Christ. On the other hand, meeting a person in need for someone who can help is also meeting God, as He said.
– In 2017, the Commission for Social Service of the All-Ukrainian Council of Churches and Religious Organizations (AUCCRO) adopted the Peacebuilding Strategy "Ukraine is our common home". It is clear that the concept of the world has many aspects. Or is this document that you refer to also not ahead of its time in terms of its main aspect: the state of rest, the period between wars, the agreement to resolve conflicts without the use of violence, as Wikipedia represents the meaning of this word? After all, Putin is unlikely to calm down in his new imperial ambitions. Yes, we pray and believe that there will be no full-scale invasion, like any other, but the northern neighbor will not let us live in peace either - a hybrid war is in full swing.
It's time to talk about the world. Anyway, the war will end and there must be people who must build it. Moreover, if we are talking about the Gospel, then, to say, the only political commandment to a Christian sounds like this: "Blessed are the peacemakers, for they are called sons of God" (Matt. 5:9).
The appearance of this document back in 2017 indicates the level of understanding by our Churches of the importance of peacemaking. By the way, only in December last year the Ukrainian National Center for the Development of Peace was established, and a large group of experts, which were joined, including by representatives of religious communities, developed the "Conceptual Framework for the Development of Peace in Ukraine in the Conditions of the Continued Armed Conflict". It should be understood that the development of the world is a process. It can be not only external, but also internal, that is, within the state. It is important that the development of the world is not only where there are peacekeepers in helmets - a peace keeper, but also a peace maker. (In Ukrainian, the concept of "peacemaker" in the evangelical and international political meanings is one word. In English, there are two.)
Let me give you one more example. The first talk of having a common textbook on complex history between Germany and France arose in the early 1930s. Then Hitler came to power, then the Second World War. When all these horrors ended, the Germans and the French remembered again those who investigated this topic. But the first joint textbook came out in the 21st century, in 2007 or 2008. That is, this is a certain path that society goes through.



I have this opinion: the war ends when its participants or descendants of those who fought against each other pray together for the repose of the dead and peace for those who are now.
If we talk about the Second World War, then for Germany and France it ended in reconciliation, and for the Soviet Union, of which Russia considers itself the heir, only a truce. The resurgence of aggressive rhetoric and saber rattling testifies to this.
- As a continuation of the previous question: what is the demand for peace - basically this word - is there in Ukrainian society? I mean that until recently, topics such as the elections in Russian-occupied territories of Ukraine, for example, caused great indignation. Now Ukraine is receiving unprecedented support from some European countries, Britain and the United States. Wealthy Ukrainians are buying up weapons, joining a territorial defense association, and preparing for self-defense. And here is an example of the headline of a TOP publication: "Hands itch, let they go on the offensive." How Berdiansk lives in anticipation of the amphibious assault of the Russian Federation.
— I believe that now the Ukrainians are striving to protect the world. I recently read Pope Francis' All Brothers and Sisters/Fratelli Tutti Encyclical, in which one paragraph ends with the words: "No to any war!". As expected, he immediately received a portion of betrayal under this post (Laughs.) But the same document says about forgiveness: to forgive does not mean giving the oppressor the opportunity to oppress further, but depriving him of his strength, establishing peace and justice. Today, mobilizing to defend their family, their homeland, they must learn the real world in order to become its defenders. Unfortunately, the time has not yet come, about which it is written, like the prophet Isaiah, on the wall near the UN building in New York: "... The people will not raise the sword against the people, and they will no longer learn war."

"OUR MOST IMPORTANT ACHIEVEMENTS ARE PEOPLE"
– For more than a year of the existence of the "Understanding" project, implemented with the support of the German Ministry of Foreign Affairs through the IFA (Institute for Foreign Affairs) in the ZIVIK funding program, online webinars and offline meetings were held on various aspects of worldbuilding. The meetings were held in eight cities of the country with the participation of political scientists, lawyers, philosophers, teachers, as well as speakers and participants from the Orthodox Churches of both jurisdictions, the UGCC, Jews, and Muslims. In your opinion, at a time when we are talking about external European integration, has internal Ukrainian integration taken place?
– The name of the project is "Understanding. Religious Communities and Overcoming the Polarization of Ukrainian Society". It has already come to an end. But, you know, understanding is the challenge.
We started last spring in rather unfavorable conditions: the concentration of Russian troops on the border with Ukraine, and no one wanted to talk about any peace. I had to explain, they say, we are not talking about surrender ... Then Covid-19 affected our meetings - they were postponed, partly took place online.
In fact, peacekeeping projects in Ukraine are just taking their rise. To say that they are now mainstream in the socio-political or religious environment would be a clear exaggeration. Therefore, those who do this are either under suspicion on both sides, or in a state of certain depression. It's easier when you decide that there is an enemy and you have to fight. And when you say: "it is necessary to negotiate with him"; "it was he who defined you as an enemy, and not vice versa"; "peace must be offered, but not on its terms" is a more complicated story.
We visited Bakhmut, Slaviansk, Odesa, Kharkiv, Sumy, Khust, Lviv, Ostroh. The problems besetting the local residents, on the one hand, are the same everywhere, and on the other hand, each region has its own characteristics. We need to learn to live in a diverse society. And learn to listen to each other.
Our most important achievement is people. Now we continue writing and publishing texts about the development of the world, which are not so numerous in Ukraine: www.oou.org.ua/peacebuilding. It is very important that they spread. We are also in dialogue with the Ukrainian National Center for Peace Development. Therefore, we can say that the religious cluster is already somehow represented there. There are people of the world, they need to be contacted with each other.
– You and your partners studied the experience of worldbuilding in other countries. In your opinion, which country's situation resembles ours, where society is post-genocidal, post-Soviet (according to the well-known Holodomor researcher James Mace, the Ukrainian SSR gained independence in 1991; Jerzy Bar, the first Polish ambassador to Ukraine, noted: they say, our country was closer to the epicenter of defeat) . And now, one might say, it is going through its Book of Exodus, if we turn to the Bible.
- The experience of each country is unique, but the challenges that a particular state faces during conflicts, wars and overcoming them are still common. Therefore, it is very important to study these cases, as it is now trending to say. We are just opening a lot of texts relating to the Second World War and the periods after it - in different countries. I wouldn't narrow down to the similarity of our situation to someone else's or someone else's.
As for the Ukrainian society, they constantly say that this is a way out of the captivity of slavery. However, God's chosen people came out and went to another land, and we, as we were on our land, will remain. Ukrainians internally must get out of slavery, and protect their land. But there is an important point here, which is not always paid attention to. The Jewish people could reach the promised land in forty days, but they reached it in forty years. Why? They wandered while they studied. A few days after leaving Egypt, he received the commandments, which laid down the principles of the life of free people. So, if we want to get out of slavery, we need to re-read the commandments, which just affirm freedom. First: "I am the Lord your God, who brought you out of the land of Egypt from the house of bondage. May you have no other gods before me!"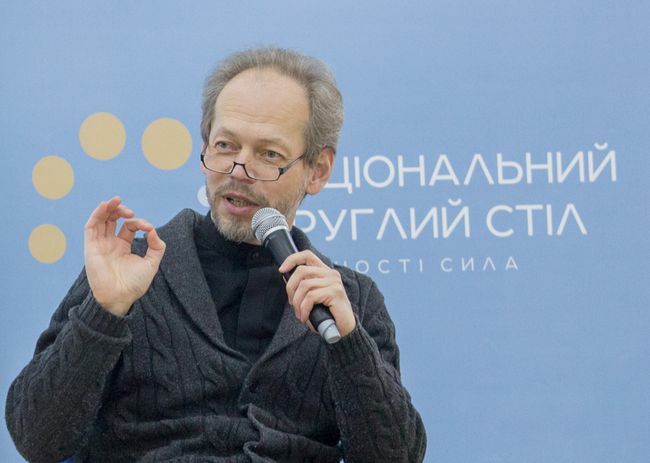 After the Revolution of Dignity, the November 21 initiative was created. So I began to write a text about freedom for them, keeping in mind the indicated commandment. This is interpreted as the value of freedom. I look into our Catechism (the father of 2019 moved from the UOC-MP to the HCU. - N.T.), and there is not a word about it ... "I am the Lord your God! May you have no other gods before me!" It turns out that it was written according to the catechism of Moscow Metropolitan Filaret Drozdov in the 19th century. I go further. Catechism of Peter Mohyla, and in it the line: "... your God, who brought you out of the land of Egypt from the house of slavery ..." - there is! That is, between the Kyiv Metropolitan Peter Mohyla and the Moscow Metropolitan Philaret Drozdov, the mention of freedom has gone somewhere. But this is still how it is perceived and learned.
Why am I: when we say "do not steal", we also mean corruption; "do not perjury" is not just about "do not lie", but also "do not manipulate" (for the media), as well as a fair judicial system. Therefore, our exit from slavery from a religious and spiritual point of view must be accompanied by the fulfillment of God's commandments. As for the socio-political spectrum, this should be a new social contract about what kind of society we want to see and, accordingly, we are building.
"As long as the hybrid war continues, the position of the Moscow Patriarchate also remains hybrid"
– Peace also needs to be built between different churches and their believers. Thus, in a recent study by the Razumkov Center "Peculiarities of Religious and Church-Religious Self-Determination of Citizens of Ukraine: Trends in 2000-2021", assessing their own attitude towards the most common religions and religious movements in Ukraine, the vast majority of our compatriots - and this is 74% - is positive talk about Orthodoxy. However, when respondents evaluate Orthodox churches, this figure for the OCU is 55%. While negativism towards the UOC-MP (34%) is expressed more often than in any other religious organization. Please tell me, in order to help here, do churches need to work on mutual understanding, or do some of them also need to draw certain conclusions?
- The Moscow Patriarchate is the church of the Soviet Union, and it still remains. Especially closer to its center. In the UOC-MP there was a part of the believers who felt differently and positioned themselves differently - the Ukrainian Orthodox Church, independent in its affairs from the Moscow Patriarchate, although in Eucharistic unity with it and all Ecumenical Orthodoxy. A completely different story with Tomos. Using various means and technologies, the UOC-MP managed to keep almost all the bishops and most of the clergy. But this is a topic for a separate discussion.
But regarding our situation, in my opinion, it is the Moscow Patriarchate in Ukraine that experiences more shocks and divisions in the event of a full-scale invasion by Russia. While the hybrid war is going on, the position of the Moscow Patriarchate also remains hybrid and potential collaborators with potential defenders of Ukraine can coexist in it. But if undisguised aggression starts, we will have to decide.
The social concept of the UOC-MP says that it should be an intermediary between states in case of conflicts and wars. Unfortunately, it didn't work out that way. At first, this church occupied a neutral position, and then began to drift towards supporting the Kremlin's policy. Patriarch Kirill, following the Russian leader, says that Ukrainians as a people do not exist, the Ukrainian state and the Ukrainian church should not exist. And it's no secret that the UOC-MP are also used in this hybrid war.
The Catholic Church was forced to rethink a de facto political theology that began as support for the Hitler regime and then changed so much that it was dubbed post-Auschwitz theology when World War II ended. This did not happen on the territory of the Soviet Union, the Russian Federation as its heir, in the Russian Orthodox Church and, accordingly, in the UOC-MP. However, this course of events is inevitable. For what we see and hear from the leadership of Russia, the Russian Orthodox Church and the UOC-MP is often incompatible with the Gospel. Although I know that in Russia, and in the Russian Orthodox Church, and in the UOC-MP there are Christians who, sooner or later, will act according to what Christ said: "Then everyone will know that you are My disciples, how you will have love for one another." (Gospel of John, 13:35).
— The poet Andrii Lyubka wrote in his article "Generation of Russophobes": "In these eight years, children have been born who have already managed to grow up and go to school, and on TV there is always one theme - war. These children grow up with the already built-in knowledge that Russia is our enemy… Yes, and we, adults, have been going to the school of Russophobia for eight years in a row. Yes, no matter what they say, but we hate not only Putin. Over the years, we have developed a reflex to stagger the whole Russian, to run away from him, as if from leprosy. Here we are talking not only about the non-purchase of Russian goods, but also about Russian goods as such. How will reconciliation with Russia take place, because times are changing and this country will not live forever with the stigma of an aggressor? How long will it take?
– Continuing what has been said: just as Catholic theology changed after Auschwitz, so will Russian Orthodoxy change after Kirill and Putin. If in the future Russia changes its policy, rhetoric, then there are chances to build relations, as Germany and France did. Denying Ukrainians the right to be a separate people, a political nation, a state is a mistake that the leaders of the Russian world make, both political and spiritual. If these questions are removed, there will be a completely different horizon for the conversations that need to be prepared today. For example, we have completely translated letters from Polish bishops into German and vice versa. The same dialogue can be between the OCU and the ROC. There are many examples in the history of Churches and states when reconciliation took place and peaceful coexistence was achieved. We already have such conversations.
French historian and theologian, director of the Institute of Ecumenical Studies of the UCU (2004 - 2011) Antoine Arzhakovsky, originally from Odesa and the Crimea, and his grandfather was killed by the Nazis in France for harboring Jews, and then was canonized. held consultations with the participation of guests from Western European countries, Russians, Ukrainians. It was an important experience when we saw Russians who are not afraid to speak the truth, being citizens of Russia and living in it. We believe that the time will come when we, too, will be able to follow the path of reconciliation that Germany and France have gone through. However, for this to happen, it is necessary that the war ends with a truly just and settled peace.
- Personal recipes for the inner world of Reverend Georgy Kovalenko.
- I have a principle: do not worry about what has not happened yet, and also about what has already happened. We need to act in accordance with reality. Do not be afraid - if about our current situation and prepare! Do your best to save your family and country. At the same time to see, in addition to the external perspective, the perspective of one's own life, because life is transient. And don't forget eternity. We, Christians who believe in the resurrection and eternal life, have an additional motivation to live and act like a Christian, without fear of threats and challenges. Actually, Ukrainians do just that.

Interviewed by Nadia TYSIACHNA

The interview took place at the initiative of the Peace and Development Foundation . The purpose of the Fundis to promote peace, the development of education and innovation for the future of the country

Source: https://day.kyiv.ua/ru/article/cuspilstvo/myrotvorec-ne-toy-hto-kapitulyuye

#Background for d_peace_and_development